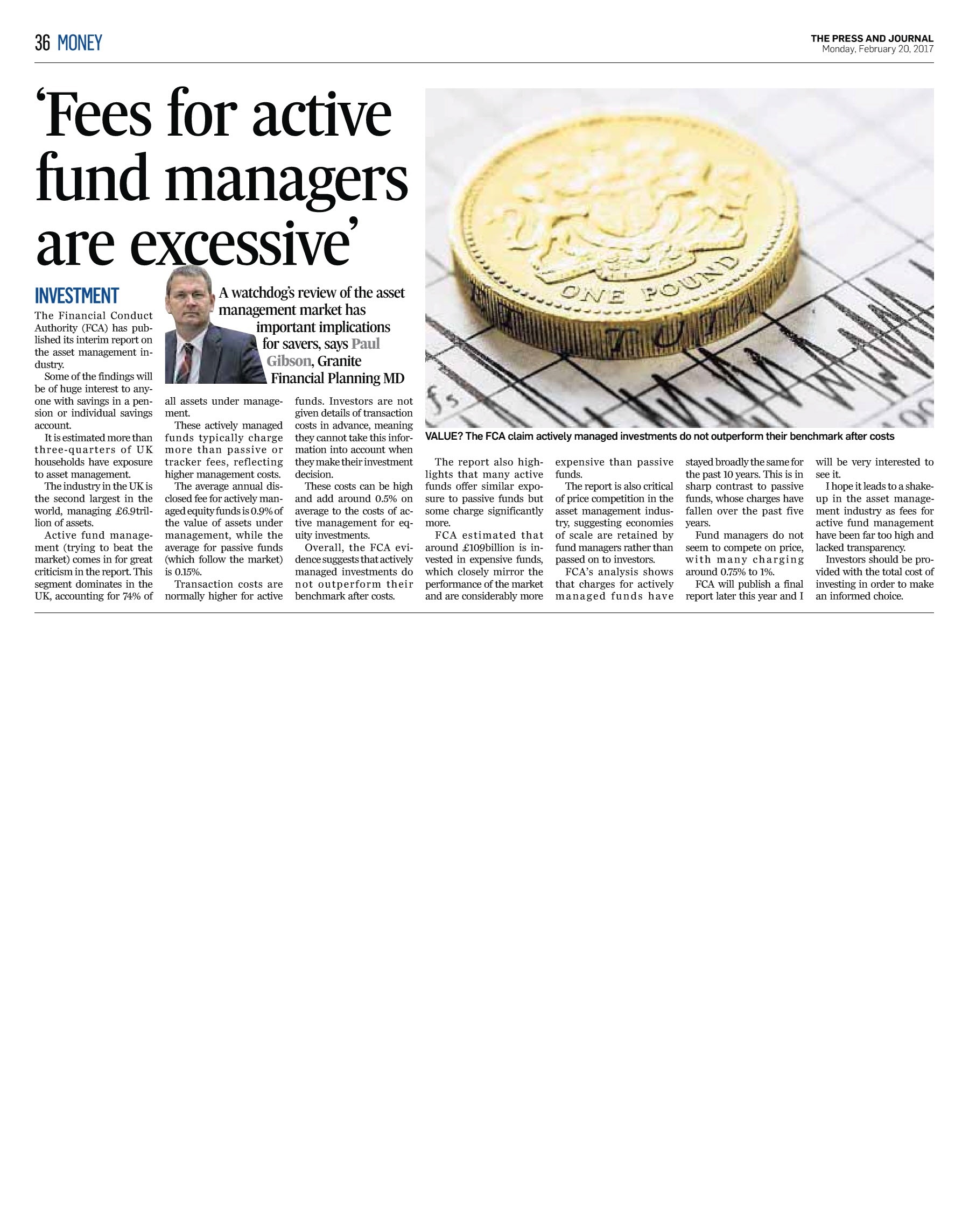 The Financial Conduct Authority (FCA) recently published an interim report on the "Asset Management Market". 
The scope of the report is wide ranging and extends to 200 pages but some of the findings will be of huge interest to anyone with savings in a pension or Individual Savings Account (ISA) as it is estimated that over three quarters of UK households have exposure to the asset management industry.
The UK's asset management industry is the second largest in the world, managing £6.9 trillion of assets. 
Active fund management comes in for great criticism in the report. Active fund management dominates in the UK and accounts for 74% of assets under management. 
Actively managed funds typically charge higher fees than passive or tracker fees, reflecting the higher costs of managing an actively managed fund. The annual disclosed fee for actively managed equity funds is 0.90% of the assets under management and the average passive fee is 0.15%. 
Transaction costs are normally higher for active funds. Investors are not being given information on transaction costs in advance, meaning that investors cannot take the full cost of investing into account when they make their investment decision.  
These costs can be high and add around 0.5% on average to the costs of active management for equity investments.  
Overall, the FCA evidence suggests that actively managed investments do not outperform their benchmark after costs. 
The report also highlights that many active funds offer similar exposure to passive funds, but some charge significantly more. They estimated that around £109billion is invested in expensive funds that closely mirror the performance of the market and are considerably more expensive than passive funds.  
The report is also critical of price competition in the asset management industry.  
The FCA evidence indicates that as a fund size increases, prices do not fall, suggesting the economies of scale are being retained by the fund manager rather than being passed onto investors in these funds.  
Their analysis shows that charges for actively managed funds have stayed broadly the same for the past 10 years in sharp contrast to passive funds which have fallen over the last five years. 
Fund managers do not appear to compete on price and there is price clustering for active equity funds, with many priced around 1% and 0.75%. 
The final report from the FCA will be published later in the year and I will be very interested to see the final version. 
I hope that it does lead to a shake up in the industry as fees for active fund management have been far too high and lacked transparency. Funds that are effectively "closet trackers" have no place in today's investment world.  
An investor should be provided with the total cost of investing to make an informed choice prior to investing.