Our financial planning process follows six stages and is explained below...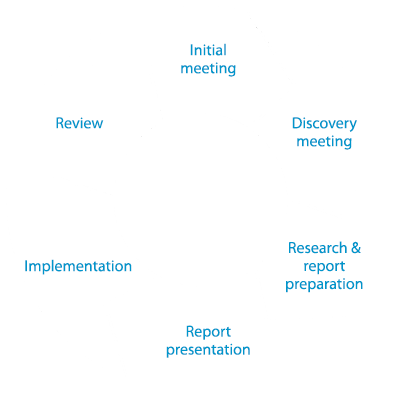 Initial meeting
The focus of the initial meeting is about introducing the firm and what we do. This is about both sides agreeing objectives and determining whether we are right for each other.
Discovery meeting
We will then move into the fact finding stage of the meeting which is about obtaining as much information as possible relating to your financial circumstances and objectives.
A key part of this process will also be to fully understand your level of knowledge and experience of investments including your attitude to risk and your feelings towards any risks of losing money as this will impact significantly on any advice given.
We use a standard risk-profiling questionnaire developed internally and may also use third party risk profiling tools where appropriate.
The impact these areas will have on your objectives will be discussed and recorded.
Research and report preparation
Using internal and external technical research we will prepare a financial planning report for you containing recommendations to suit your individual objectives. At all times, any recommendations will be assessed against your attitude to risk, time horizon, associated costs, past performance, asset allocation and expected returns.
Report presentation
We will always look to present our financial planning report to you in a face-to-face meeting.
The report will comprehensively outline your current position and will detail our professional observations in each area. By examining these observations against your stated objectives, we will recommend the actions we believe will, if followed, reduce the barriers to your objectives, minimise any risks we have identified and maximise the opportunities for achieving your goals.
The report will also contain the supporting information behind the recommendation including where applicable, illustrations and product brochures (including key features documents).
Implementation
If any products are required, then Granite Financial Planning can implement them. Alternatively, if you prefer to implement them yourselves you are free to do so.
Review
A review service will be available to help ensure your financial plans remain on track and to take action in light of changes in personal circumstances and changes in legislation.